Here are some creative alternatives to the usual evening party:
1. A Double Hostess or Co-Hostess Party
Two Hostesses jointly invite their own guests and share the Hostess credit (previously determined between the two Hostesses).  This method is enjoyed by the Hostess who wants to hold a party, but does not want to have an entire party on her own.
2. Theme Parties
Here are some of our favorite Theme Party Ideas.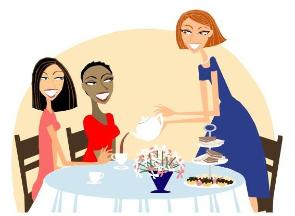 Theme Party Ideas
3. Office Parties
Office Parties can be held during lunch or after hours in a break room, cafeteria, or private office.  Encourage the guests to sit back, relax, and enjoy themselves.  Because of time constraints, you will want to keep your presentation time to a minimum and keep things moving along swiftly.
4. Couple's Parties
A Couple's wine and cheese Party on a Friday or Saturday night can be a very fun event for men and women alike.  Often times it is easier to make a decision on jewelry when a couple attends together.  It is also a fun socializing event with friends, neighbors and co-workers.
 Tell us about your great Theme Party Ideas…e-mail us at inquiries@azuliskye.com
Comments